The "Geekster" 's quest
Edit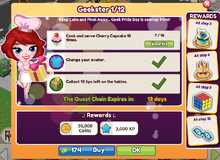 I just want to ask - I want to make whole article about this quest, so please no one another make it, I'll just post the tasks first here.
it's 13 days to complete it.
So, here we go! Here is the first tasks' set: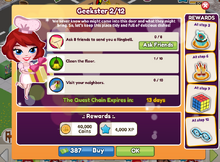 Now comes time to secure yourself against unexpected visits and "teach the lesson" for a few friends!
Two words - Coctail Party!! Prepare Crab Macaroni and descry for first geek - he's going to give you a little present!
I'll hint you: he is using "geeky" dress code, but remember that he'll give you a gift only after your preparations!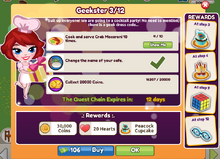 There were so many people with glasses... Even too many... You need too relax!
Do you really know who is geekster?? If you'll work hard, tomorrow you'll get exclusive pastry - Kataifi-Wrapped Shrimps!
Maybe you know some geekster?? Just think or look up, what it means!
Do you know that quote? From where? Have you seen any geekster? You don't know?!
Oh, my, I was so busy that I forgot to commerate that beatiful day... But fon't worry, ou just have to work little hard for some money, be clean and get love from all around and your clients!
It's so exciting! And I love mental riddles. And you? What about Rubik's Cube?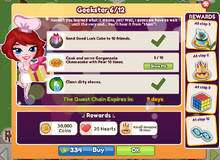 Just cook for your geekster customers and they'll give you love and little of money. My camera is taken for few days to repairing.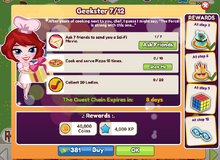 Now we are needing more pot forks and we have to ask our geeksters, what they prefer to eat... but at the meantime another clients cannot to wait and starve!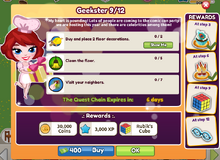 Finally! Geek's Week is ending and I have my camera's back. It's time fo few ending parties and then... Keep calm and geek up...
Community content is available under
CC-BY-SA
unless otherwise noted.