Hello! Has snow fallen at you yet? If your answer is 'no' and you're disappointed, you should looking for that in another place, eg. Caféland!

P.S.I've missed screens 4th part of this and 5th part "Golden Karaoke" quest's. If anyone here wouldn't mind to take these, please send it on this Wikia to any article, to this post or directly to me.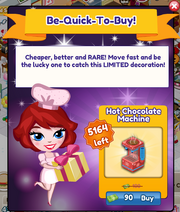 nother coookie-christmas Santa's gift!